Cutter & Holder
by Kyokutoh
Available for various cap tip shapes
Correspond to majority of cap tip shapes.
Correspond to tip dressers from more than 20 companies; used by over 100 customers.
Cutter holder fit into various types of tip dresser from each maker.
Contribute to reduce the cutter variety and inventory management.
Support the long life span of cutter blade and reduce dressing time.
※ Please prepare drawings of gun and tips, gun presser and dresser type for selecting suitable cutter and holder.
Specification
D type : D type
Upper Tip
Lower Tip
Cutter
ф

4XR8

ф

4XR8

KTW-10
ф5

XR8

ф5

XR8

KTW-11
ф6

XR8

ф6

XR8

KTW-12
ф8

XR8

ф8

XR8

KTW-13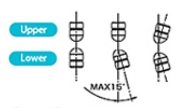 D type : F type
Upper Tip
Lower Tip
Cutter
ф6

XR8

ф

16F

KTW-23
ф6

XR8

ф

13F

KTW-24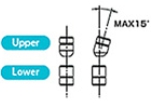 D type : F type
Upper Tip
Lower Tip
Cutter
ф6

XR8

ф

16F

KTW-23
ф6

XR8

ф

13F

KTW-24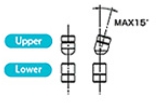 | | | |
| --- | --- | --- |
| R type : R type | | |
| Upper Tip | Lower Tip | Cutter |
| R6,5 | R6,5 | KTW-15 |
| R8 | R8 | KTW-16 |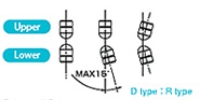 D type : R type
Upper Tip
Lower Tip
Cutter
ф6

XR8

R40
KTW-14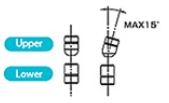 C type : C type
Upper Tip
Lower Tip
Cutter
ф

4X45

°

ф

4X45

°

KTW-05
ф5

X45

°

ф5

X45

°

KTW-06
ф6

X45

°

ф6

X45

°

KTW-07
ф8

X45

°

ф8

X45

°

KTW-08

D type : B type
Upper Tip
Lower Tip
Cutter
ф6

XR8

ф6

X30

°

KTW-21